About Danny Decker

I love entrepreneurs.
And I love being around entrepreneurs. I love spending time with people who have the vision and the strength to change the world around them for the better.
I love the impact that business can have on our communities. Business – especially small business – transforms lives and creates opportunity. Not just for the owner, but for their employees, their vendors, and their local economy. A thriving business creates jobs, creates all sorts of opportunity, and helps to pay for our local roads, schools, and other vital services.
But, unfortunately, many businesses aren't growing because they haven't figured out their marketing.
❌ They've been ripped off by marketing vendors in the past.
❌ They've tried a bunch of different ideas, but nothing has worked.
❌ They're struggling to stand-out from their competition.
❌ They're operating without any sort of marketing plan. 
And so they're not growing as fast as they could be. And they're not making the impact that they could be making.
❌ They're not employing as many people as they could be.
❌ They're not making as much money as they could be.
❌ They're not serving as many customers and clients as they could be.
My goal – the reason I started Marketing Simplified – is to help you change all that. Specifically, I want to help you:
✓ Create a real marketing plan that you can confidently execute
✓ Evaluate your marketing vendors and hold them accountable for real results
✓ Attract customers and clients more consistently
✓ Develop a brand strategy so you can charge higher prices & make more money
✓ Mentor and develop your marketing staff
✓ Grow your business to its full potential and make the biggest possible impact on the world around you!
I help entrepreneurs fix their marketing and grow their business so that they can make a bigger impact on the world around them.
That's why I do what I do.
And I'm proud of the fact that I've actually built successful businesses myself.
Unlike some coaches and "gurus" who've never been in the trenches, I understand what it's like to build a business from scratch with limited resources.
I'm not teaching academic "theory" or ideas that sound good but don't make sense in the real world. 
I help my clients to create strategies and systems that have personally worked for me as I built my own seven-figure business in just a few years.
My Journey From Zero to Seven-Figures… 
November, 2018 
After seven AWESOME years building Spotlight Branding, it's time for a new chapter in my life. I've officially sold my share of the company to Marc Cerniglia, my partner since day one.
It's been an amazing journey.
We started the business in late 2011, from a spare bedroom in my apartment, and it was just the two of us for the first few years. We had all the energy and passion in the world but very little idea what we were doing 🙂
Seven years later, thanks to great mentors, amazing clients, a whole lot of hard work and sleepless nights, and a little bit of luck, we've built a business that broke seven-figures in revenue, continues to grow rapidly, employs nearly a dozen full-time team members, and serves amazing clients in 30 states and counting. It's been a genuinely amazing experience and I wouldn't trade it for anything.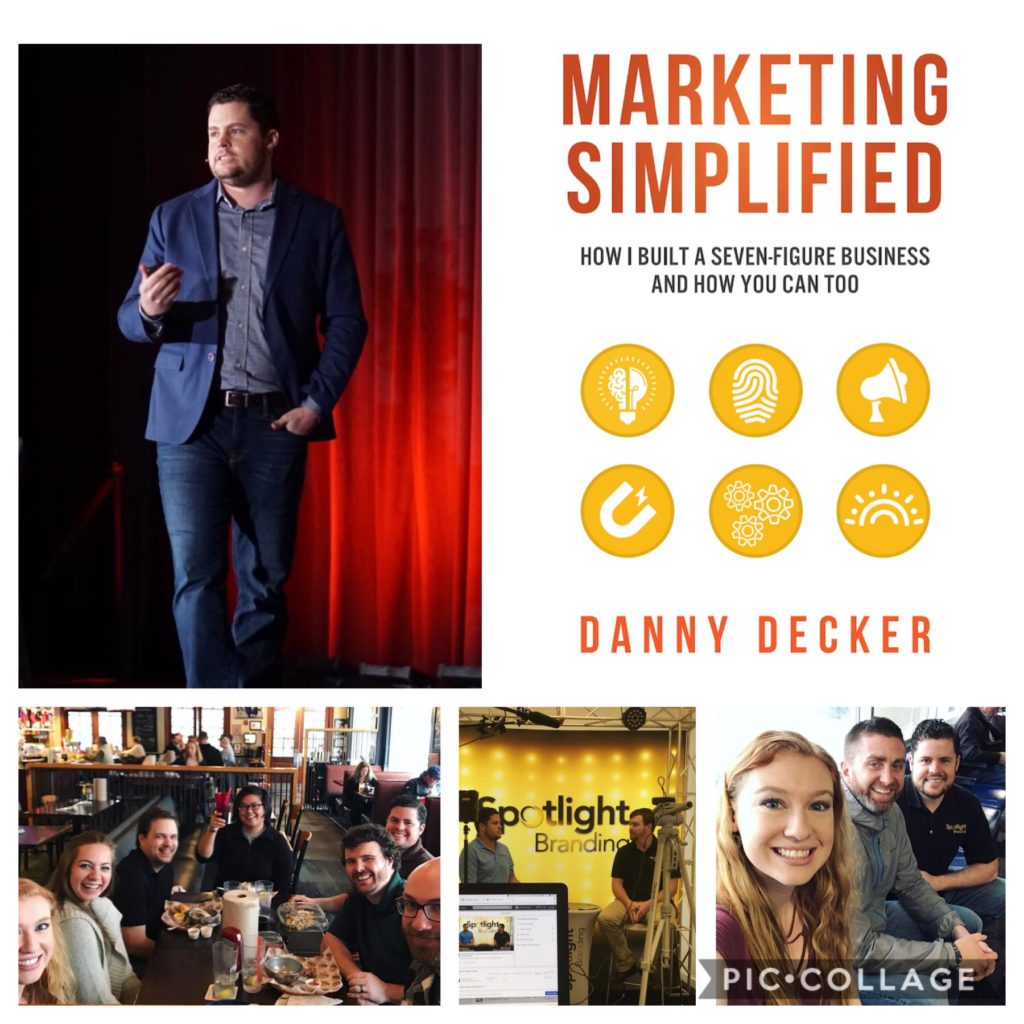 Now, I'm excited to pursue some new passions. That's why I've launched Marketing Simplified.
In a nutshell, I believe that marketing shouldn't be a mystery. There are so many businesses out there, delivering amazing products and services, but STUCK and unable to grow to their full potential.
And it's because they've never been able to figure out how to create a marketing strategy that fuels their growth. I want to help other business owners achieve the success that we were able to create with Spotlight Branding.
I'm doing that in a few different ways.
First, I'm excited to share that I've just finished my first book, titled Marketing Simplified. It's available on Amazon – click here to learn more!
I've also launched a new podcast, called the Marketing Simplified Podcast, which is available on iTunes, Spotify, Google Play, and just about everywhere else podcasts can be found.
I've created a number of free resources designed to help you improve your marketing, which you can access via the "Resources" tab on this website. 
And finally, I'm working directly with a handful of exclusive private clients – business owners who are serious about taking their business to the next level and making a bigger impact on the world around them.
We've already begun to see amazing results and I'm really pumped and grateful for the opportunity to work with some amazing entrepreneurs.
Click here to learn more about how I serve business owners.